Our Story
STENMARK Creative Director, Susie Stenmark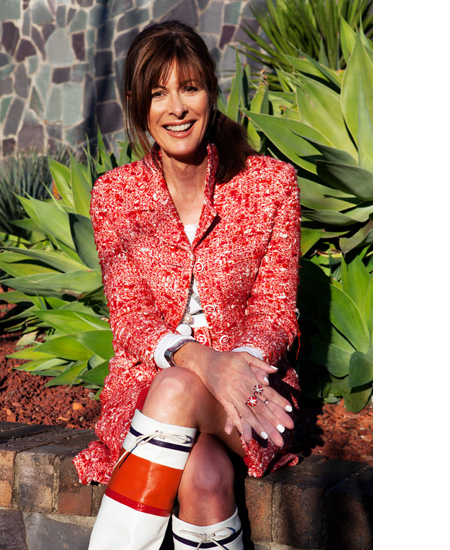 I've always been obsessed with media and focused on beauty, art, fashion and contemporary culture and how they all collide. As a teenager I co-hosted a daily children's morning television show before beginning a modelling career with a long list of television commercials to my name. I have run my own restaurant on Sydney's Bondi Beach. I've been a journalist and television presenter, and features editor on the influential Vogue Entertaining magazine. And for 10 years, immersed in the world of Chanel heading up communications for Chanel in Australia, I had a privileged view into the world of luxury. Now, a career about-face.
In the back of my mind, always, was a desire to create. As Creative Director of STENMARK, I wanted to bring an aptitude for drawing and a strong interest in design, using influences from architecture and antiquity, to bear on the world of fine jewellery. I have studied gemmology, carefully selecting stones such as diamonds, rubies and sapphires, but also pearls, turquoise and opal in kaleidoscopic colours, featuring them in bold settings of yellow, rose and white gold and luscious enamel.
Why jewellery, why now?
Fashion is a beautiful world and it's fun to be part of it, but to quote Coco Chanel, "Fashion passes, style remains" and I wanted, quite simply, to make something that would last and would mean something to women, something of intrinsic value that would be enduring in their lives.
I've always been a big jewellery wearer
I used to yearn for jewellery from a very early age. I had a large blue stone ring that my aunt used to call the Hope Diamond and much of my teenage clothing budget went on costume jewellery. In my late teens, I spent my first sizable modelling cheque on an 18 karat gold link bracelet which I promptly lost over the side of a boat. I've learnt to hang on to my jewellery since then.
My favourite piece in my personal collection
Besides my engagement ring, I have a gold signet ring which I bought in Egypt that never stays unworn in the jewellery box for long.  It has an oval cartouche (which is unusual) of Nefertiti and Akhenaten making an offering to Ra, or Aten and I love it for its cool, modern look.
The iconic piece of jewellery of the last century
Jean Schlumberger's Bird on a Rock for Tiffany.
My creative motivation
I am driven by colour and I would say it is the genesis of my designs. Colour thrills me and I always marvel how colour in fashion can affect mood and attitude. Similarly in jewellery, colour and form convey so much, and although I adore white diamonds, I could never deny myself the joy of coloured stones.
I wanted to use gems that were perhaps a little less-often used than the Big Four gems: diamond, ruby, emerald and sapphire. I'm crazy about tourmaline, topaz and garnet, because they each come in many different colours, and for textural contrast and colour saturation, I love the different chalcedonies.
My three idols in jewellery design, ever
Fulco di Verdura, Jean Schlumberger and James de Givenchy, all for their originality and genius use of colour.
What becomes a legend most?
Legendary jewellery wearers, such as Elizabeth Taylor inspire me and Babe Paley looked legendary in all her jewellery. What's great about these two women is that they wore their jewels morning, noon and night: by the pool, at lunch, at the beach, playing tennis or at a black-tie party.
Who do I imagine wearing my jewels?
A woman who adores glamour and who likes to be amused.
If I could choose one actress to be the face of my new brand …
I like the way Blake Lively dresses, with such a strong fashion sense. She always looks outstanding on the red carpet and her choice of jewels is always perfect. So if I like her style choices, perhaps she'll like mine?
How will my collections evolve?
It would be great if a woman could build a jewellery wardrobe that gives her pleasure by buying my pieces, so it is my aim for the collections to evolve to include jewels for every occasion in a woman's life.
There will be new stories every six months and some of the existing collections will be added to regularly. I would like to strike a balance between developing future classics which will stay as part of my offering, and also to tempt with something new, so when someone visits the site they can be seduced by a fresh design they haven't seen before.
What piece in my collection do I choose to wear, over all others?
I am very attached to the Sun Ray ring; I like its bold dimensions and character and its classic motif.